Subscribe to our blog
Thanks for subscribing to the blog.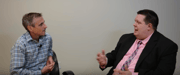 Scott Lowe interviews Phil Brotherton of NetApp about the challenging move from traditional storage administration to hybrid cloud-based storage consumption and management.
Phill: It's a great question because — If you're a storage administrator, cloud adoption or the move to the cloud is a big change. Scott: "We need to go to the cloud tomorrow, I know we'll eventually have to do it because that's they direction the world is going..what does that mean for me and what do I have to overcome…?"
The first thing is agreeing that these are good trends—think about it, learn about it. Then some of the things you're really good at, as a storage administrator, understanding latency and how that applies to application performance, those are hugely important in the cloud. One of the most cost sensitive aspects of cloud operations is your latency requirements.
Who knows that better than storage guys?
Want to get started? Try out Cloud Volumes ONTAP today with a 30-day free trial.
Watch the full video below to learn more.