Subscribe to our blog
Thanks for subscribing to the blog.

What will be gone soon? Simply put… my hair!
This coming Saturday, March 7th, I'm going to have my head shaved to raise money for children's cancer research. I'll be supporting the NetApp RTP St. Baldrick's event, which will be held at Napper Tandy's in downtown Raleigh, NC from 12pm to 8pm.
For those of you who know me, you know what I'm talking about. For those of you who don't know me, you might recognize me as the guy with the ponytail from several of our NetApp Insight conferences or in several of our NetApp Cloud videos.
Why am I doing this? I've supported St. Baldrick's for several years with my monetary donations, but this year I decided to be on the other side of the… uh… razor. While I am still making my own monetary donations, this year I wanted to do more. Being a St. Baldrick's shavee helps me do just that.
Please help me with your support and you too can help in the battle against children's cancer with your donation for childhood cancer research.
Another reason I'm doing this is because I can also help children in yet another way with my hair. I currently have close to two feet of hair that I will donate to Locks of Love. Locks of Love is a non-profit organization that provides hairpieces to children suffering from long-term medical hair loss for any reason.
I think it's great that I can help two wonderful organizations at the same time, and I hope you do as well. To see my donors, fundraising progress, even more before and after photos, and – most importantly – the kids I'm doing this for, please visit my page on the St. Baldrick's website: https://www.stbaldricks.org/participants/KevinGoesBald.
To help me reach my goal, you can give online via the above link, or by phone (888-899-BALD). You can also write a check payable to "St. Baldrick's Foundation." And never fear – I can take cash too!
I promise your gift will be used responsibly. The St. Baldrick's Foundation is the largest private funder of childhood cancer research grants. This is a volunteer-driven charity, which keeps fundraising costs low and grants high. St. Baldrick's gave over $27.2 million to childhood cancer research in 2014 alone. Please help me with your support (and donations) for 2015.
Thank you so very much for your support of this worthy cause!
Sincerely,
Kevin
To give a quick, glimpse at today's before state, here are a couple of pictures: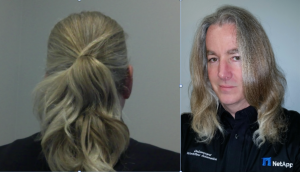 Want to get started? Try out Cloud Volumes ONTAP today with a 30-day free trial.