Subscribe to our blog
Thanks for subscribing to the blog.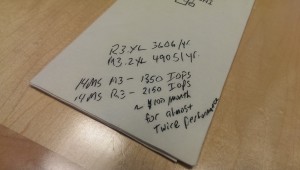 Back of the napkin
NetApp is developing Cloud vOLUMES ONTAP (formerly ONTAP Cloud) features at a pretty rapid pace. As Amazon adds new features and capabilities, we scramble to pull them in to see how they fit, and qualify, qualify, qualify so we can make them available to our customers. One thing we recently added was support for the R3 EC2 instance type. I expect we'll keep pace with AWS and other hyperscalers incorporating new features they release based on our plans and commitment around Cloud Volumes ONTAP.
We're still working on a formal write-up of the M3 vs R3 instance type comparisons, but I wanted to share a conversation us guys on the cloud team had and what we've seen. This is something that anyone can easily test. AWS EC2 instances are, of course, shared compute resources so you might see a little variation on our what we saw.
Here are our general observations:
Read performance was almost exactly the same between the M3 and R3 Cloud Volumes ONTAP instances
We saw better write performance for an r3.xlarge instance over an m3.2xlarge instance. In general, a ~60% improvement for the working set we tested
Also in looking at the AWS EC2 pricing, the hourly charges for an r3.xlarge are lower than that of an m3.2xlarge instance. For our region, that would equate to a savings of over $100/month.
That's right! We're seeing better performance and lower charges for Cloud Volumes ONTAP using an R3.XL instance instead of an M3.2XL instance.
For me this is a no-brainer, and the performance will be even higher with R3.2XL. If you want to take advantage of this, find a time when you can stop your Cloud Volumes ONTAP instance and change it over to an R3.XL or R3.2XL. You'll be glad you did!
And as mentioned before, we are working on a more formal write-up, and will share that just as soon as we can.